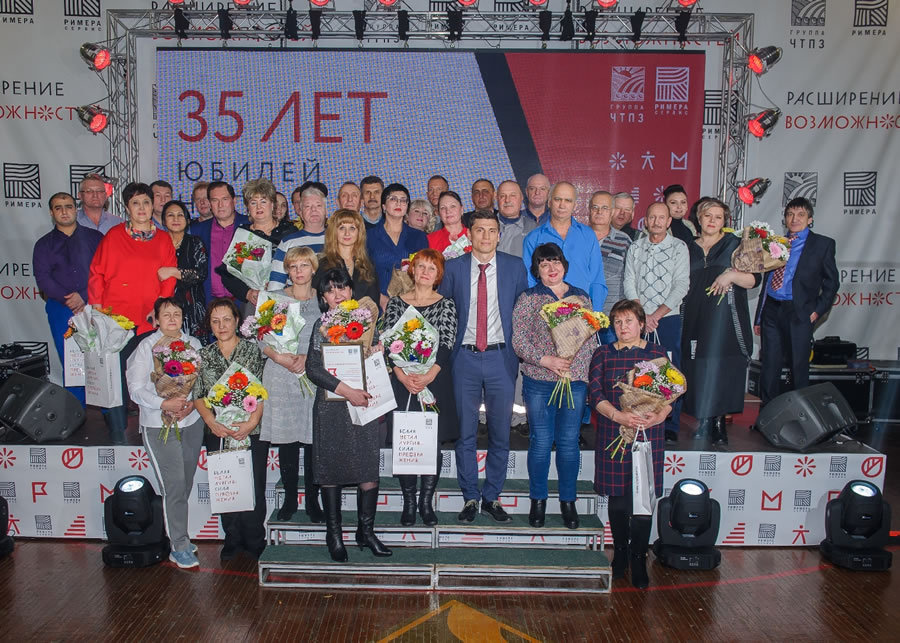 Affiliated company «Rimera-Service-NCTB (Noyabrsk Central Pipe Base)» (the member of Group of companies «Rimera» — oilfield services division of ChelPipe Group) has celebrated its 35th anniversary. The celebration in the spirit of corporate transformation philosophy values «White metallurgy» took place at pipe base in Noyabrsk.
The honorary guest of the anniversary was the deputy chief of municipal administration of Noyabrsk, Sergey Gorbachev. The event included a concert, an «intergenerational continuity» ceremony and awarding of the Sannikovs working dynasty whose combined period of employment at the plant makes up 35 years.
Futhermore, as part of the anniversary celebration, 45 veterans of the plant, who had worked at the pipe base for over 25 years and made a considerable contribution to the company's establishment, received notes of aknowledgement and appreciation. Children from the sponsored social-rehabilitation center for young persons «Harmony», which the affiliate company «Rimera-Service-NCTB» has been supporting for over ten years, also made a present for Noyabrsk central base anniversary.
— After «Noyabrsk Central Pipe Base» became a member of Group of companies «Rimera» in 2011, the plant production capacity has increased by almost 100% — by the end of 2019 the amount of repaired and new pipes will make up 1.5 mln pieces, — mentions the pipe service Director of «Rimera Service», Yevgeniy Gaas. — The company owes its achievements to the employees who are not indifferent to our common mission and who take the responsibility for their work and stay devoted to their company and profession.
«Noyabrsk Central Pipe Base» was founded in 1984 as a service division for the maintenance of oil-production equipment of «Production Association Noyabrskneftegaz» (today «Gazprom Neft-Noyabrskneftegaz»). Nowadays the pipe service of Group of companies «Rimera» is a network of service centers which is successfully developing, expanding its presence on the market, increasing production volume and actively participating in social activities.